The Non-Surgical Difference
Posted March 17, 2016 in Face lift, Liquid Facelift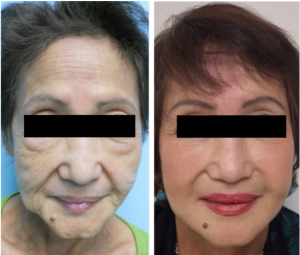 Aging is inevitable. As we get older, we tend to lose volume in our face. This causes fine lines, wrinkles, and sagging facial skin to develop. Many think of surgical facelift surgery for correcting these effects of facial aging. However, with so many options, having to go under the knife is not the only choice for addressing these common issues. Instead of undergoing a surgical facelift, patients may find they would benefit more from a non-surgical procedure such as the liquid facelift.
The best candidates for the liquid facelift are those who want to rejuvenate and "refresh" their face.The ideal candidate is a patient who has lost "volume" to her/his face especially in the cheek and mouth areas. BOTOX® Cosmetic or skin peels may be added for additional improvement in wrinkles.
What Is the Liquid Facelift?
The liquid facelift involves the use of a special hyaluronic acid (filler material) diluted and inserted into the tissues with a non-sharp injection cannula to prevent bruising. Hyaluronic acid is a natural product of the body; therefore, patients can undergo the liquid facelift while resting assured that no allergic reactions will occur. The filler material is injected into the targeted areas to stimulate new collagen and tissue growth for a long-term improvement in the volume and shape of the face.
 The liquid facelift makes a difference in the overall facial appearance by essentially "plumping" up the skin and "fleshing" out the face. It can be injected into the temples, cheeks, lower eyelids, and jawline to create more youthful facial contours. As the face gains more fullness, signs of aging such as fine lines, wrinkles, and sagging jowls will diminish. The liquid facelift can take five to seven years off of your facial appearance. Unlike the surgical facelift, patients can go back to work immediately following this procedure.
Liquid Facelift vs. Surgical Facelift
The liquid facelift is for those who want a fast and safe procedure that helps them achieve immediate results, unlike facelift surgery that will require some "recovery" time. Both can help a patient look younger and more beautiful, but surgery does not address the volume deficits in the aging face. On the other hand, a liquid lift does little to address "loose" skin. Facial surgery usually requires general anesthesia whereas liquid lifts typically use topical anesthesia. Those who want an "overnight" facelift to address facial aging in a quicker fashion may benefit more from a liquid facelift.
Benefits of a Liquid Facelift
Painless

Safe

Minimal recovery

No scarring

Immediate results
In addition to addressing superficial signs of aging with the liquid facelift, Dr. O'Neil also performs the liquid hand lift. Patients can add volume to the hands, giving them a thicker, younger look. This will get rid of the thinning, veiny appearance that hands tend to develop due to the natural effects of time and aging.
If you are interested in learning more about the liquid facelift, Dr. O'Neil can provide you with additional information. You may schedule a consultation by calling (888) 820-5762 or by filling out our online contact form.