Butt Augmentation
A flat, unshapely buttock may be preventing you from having the voluptuous curves you desire.
For many women, a defined and pronounce backside helps them look more attractive and adds balance for a more shapely figure. Butt augmentation allows you to increase the size and improve the shape of your buttocks without using synthetic implants.
What Can
Butt augmentation Achieve?
✓ Fuller buttocks
✓ Improved butt shape
✓ Slimmer waistline
✓ Removal of unwanted fat
✓ Increased confidence

Fat Transfer:
The Solution for Butt augmentation
FAT TRANSFER
Fat­saving liposuction techniques harvests fat from troublesome areas of the body. Dr. O'Neil makes small incisions in discreet locations in the specific liposuction sites. A cannula (thin, hollow tube) is inserted through these incisions to remove excess fat using gentle suction, and the fat is purified. Dr. O'Neil then strategically injects the purified fat into specific areas of the buttocks in layers for better distribution of tissue. The injected fat increases the volume of the buttocks and allows Dr. O'Neil to shape and better define the buttocks to enhance your body's natural shape.
BENEFITS
Patient­harvested fat eliminates the need for synthetic silicone implants, which can have potentially negative reactions within the body.
Fat harvested from the body improves body contours by eliminating excess fat deposits from other areas such as the abdomen, hips, thighs, back, and arms.
Utilizing smaller incisions minimizes scarring.
Shorter recovery period.
Before & After
Gallery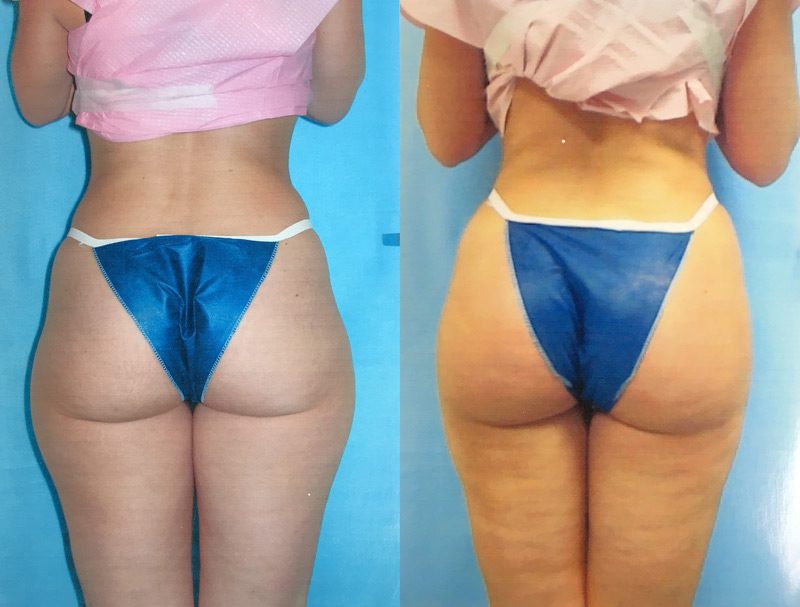 * Every case is different and results do vary. I will be able to address your individual case during your consultation.
Frequently Asked
Questions
WHAT TYPE OF ANESTHESIA IS USED DURING BUTT AUGMENTATION?

Typically, intramuscular anesthetic with sedative (twilight anesthesia) is used for butt augmentation for a safe and painless procedure.

IS FAT TRANSFER PERMANENT?

About a third of the transferred fat cells will not survive and will be reabsorbed. The remainder of the fat cells will be permanent.

AM I AN IDEAL FAT TRANSFER CANDIDATE?

A personal consultation is necessary to determine. You must be in good health and have adequate fat for transfer.
Schedule a
Consultation
If you would like to schedule a consultation or ask a question, please fill out the form below or call us at 951-296-1690.