Skin Rejuvenation
Developing signs of aging is a common product of getting older.
We lose collagen, and our skin begins to show years of sun damage. However, many men and women believe that their wrinkles and age spots are causing them to appear much older than they actually are. With people living more active lives for longer, you want to have a facial appearance that reflects how young you feel on the inside. Dr. O'Neil's unique skin rejuvenation system non-­surgically erases signs of aging to dramatically restore a more youthful appearance.
What Does
Skin Rejuvenation Treat?
✓ Wrinkles
✓ Skin laxity
✓ Pigmentation spots
✓ Acne scars
✓ Sun damage

Skin Rejuvenation
With Dr. O'Neil
"IT'S IN THE PREPARATION."
Skin preparation before a chemical or laser peel is, an often overlooked but very important part of the peel process. The skin must be properly and evenly cleaned of all debris, bacteria, skin oils, and other topicals (lotions, make up, etc...) prior to the actual peel process. This is to insure even and proper penetration of the chemicals or laser pulses. We take great care, at The O'Neil Skin Center, to properly prepare your skin prior to any of our chemical or laser peels.
BENEFITS
More dramatic results than traditional dermabrasion, chemical peels, and laser treatments
Facelift quality results with a non­surgical procedure
Elimination of deep­set wrinkles
Even and natural skin tone and color
Stimulates the production of collagen and elastin fibers
Long­lasting results that can be visible for up to 10 years
Concerns
RECOVERY
The first part of the recovery from our Skin Rejuvenation treatment requires antibiotic powder or ointment to be applied to the treated skin for 10 to 12 days. In some cases, a medicated "tape" will be applied the first 48 hours.
The first 10-12 days serve to heal the 'outer skin'. You will not want to be out in public during this time because of appearance. Pain is minimal and consists, primarily, of itching and'sunburn' like feeling.
After 10-12 days, the antibiotic covering is removed leaving you with red-red brown colored skin. This is the part of the process that grows new collagen and will slowly resolve over 3-4 months. A medicated make-up will be recommended for your appearance and sun protection during this time.
SCARS
One of the many benefits of Dr. O'Neil's skin rejuvenation system is that it is non­surgical. Where a facelift can leave extensive, visible scarring along the hairline, this skin rejuvenation system requires zero incisions, leaving a smooth, scar­free complexion.
PAIN
An intravenous anesthetic with a sedative is used during Dr. O'Neil's skin rejuvenation treatment. This allows you to relax and sleep through the procedure for a painless treatment. Following the procedure, your skin might feel tight or irritated. Our topical healing ointment will help control any discomfort.
COST
The average cost of Dr. O'Neil's skin rejuvenation is $6,200. This price includes the facial rejuvenation, skin peel, five days post­op care, as well as operating and anesthesia fees.
Before & After
Gallery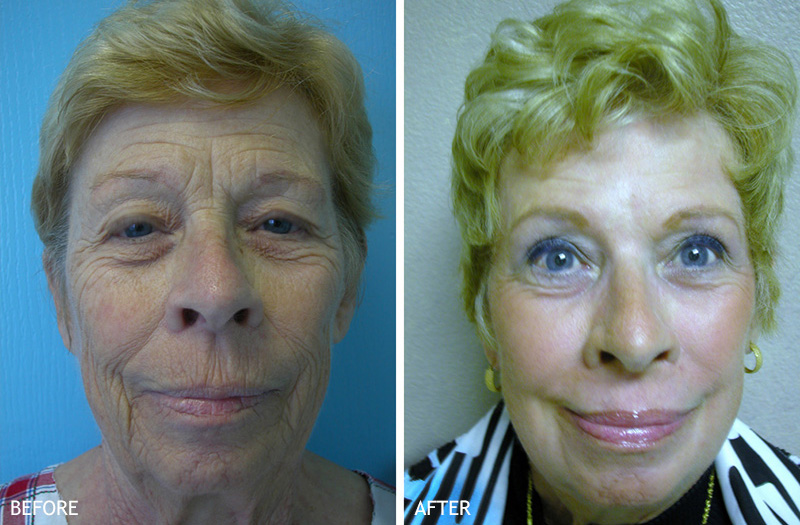 * Every case is different and results do vary. I will be able to address your individual case during your consultation.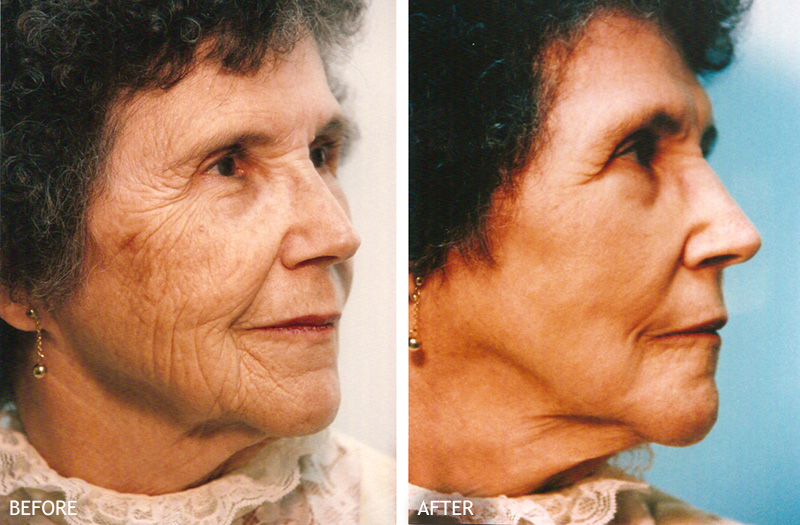 * Every case is different and results do vary. I will be able to address your individual case during your consultation.
Frequently Asked
Questions
WHO IS A CANDIDATE FOR DR. O'NEIL'S SKIN REJUVENATION TREATMENT?

Almost any patient with visible signs of aging can significantly benefit from Dr. O'Neil's skin rejuvenation treatment. Some health problems may prevent you from qualifying for treatment. Certain patients may be better suited for a different procedure. Dr. O'Neil will recommend the best course of treatment during your consultation.

HOW LONG DOES IT TAKE TO PERFORM A SKIN REJUVENATION TREATMENT?

Since there is an extensive preparation process, Dr. O'Neil will be working on your skin for 1 to 1 ½ hours.

HOW MUCH YOUNGER WILL I LOOK FOLLOWING MY SKIN REJUVENATION TREATMENT?

Individual results will vary depending on the extent of correction needed prior to treatment and your body's healing process. Most patients look 10 to 12 younger following their treatment.

HOW LONG WILL MY RESULTS LAST?

Since Dr. O'Neil's skin rejuvenation treatment regenerates collagen production, most patients receive life­long results. You will look up to 10 years younger than your true age for the rest of your life.

IS DR. O'NEIL'S SKIN REJUVENATION SAFE FOR ALL SKIN TONES?

Dr. O'Neil's skin rejuvenation treatment is safe and effective on all skin tones, including darkerskin.

HOW DOES DR. O'NEIL'S SKIN REJUVENATION COMPARE TO A LASER PEEL TREATMENT?

Dr. O'Neil's skin rejuvenation offers great skin tightening and improvement to signs of aging. It penetrates deeper than traditional CO lasers. In additional to longer­-lasting results, your treatment will also produce smooth skin and more natural­-looking results.

HOW DOES DR. O'NEIL'S SKIN REJUVENATION COMPARE TO A FACELIFT?

While both treatments correct sagging skin and facial wrinkles, a facelift cannot correct the deep wrinkles that occur around the mouth and eyes. Dr. O'Neil's skin rejuvenation improves these hard-­to-­correct areas for visibly younger skin.

WHAT IS THE BENEFIT OF STAYING AT THE AFTERCARE FACILITY PROVIDED BY O'NEIL SKIN & LIPO CENTER?

Our highly skilled and knowledgeable staff will help guide you through your initial recovery. They provide tips and monitor your recovery to help ensure healthy, beautiful results.
Schedule a
Consultation
If you would like to schedule a consultation or ask a question, please fill out the form below or call us at 951-296-1690.