Skin Rejuvenation
Developing signs of aging is a common product of getting older. We lose collagen, and our skin begins to show years of sun damage. However, many men and women believe that their wrinkles and age spots cause them to appear much older than they are. With people living more active and healthy lives for longer, you want to have a facial appearance that reflects the youthful energy you feel on the inside. Dr. O'Neil's signature skin rejuvenation system offers non-surgical solutions to signs of aging, dramatically restoring a more youthful appearance.
What Does
Skin Rejuvenation Treat?
✓ Wrinkles
✓ Skin laxity
✓ Pigmentation spots
✓ Acne scars
✓ Sun damage

What Is Skin Rejuvenation
Like With Dr. O'Neil?
"It's in the preparation."
The secret to Dr. O'Neil's skin rejuvenation system lies within his extensive skin preparation process. You will find that other offices will use just one stage to prepare their process. At O'Neil Skin & Lipo Center, we use a 4-step, 35-minute skin preparation process. During the first 3 steps, bacteria, dirt, and oil are gently removed and dead skin cells are exfoliated from the surface of the skin. During the final step, we break down the surface keratin layer, which allows the rejuvenating solutions to penetrate deeper into the skin. This thorough cleansing process ensures that the solutions can work deep within the tissues to correct wrinkles, purify skin, and improve discolorations.
After the chemical solution is applied, an ultrasound and "cold" laser are used to treat deep into the tissue. During this stage, new collagen is stimulated, smoothing wrinkles and non-surgically lifting and tightening the skin.
Benefits
Dr. O' Neils signature skin rejuvenation technique provides dramatic and trusted results that enhance traditional dermabrasion, chemical peels, and laser treatments. For those that want facelift quality results with a non-surgical procedure, this therapy is for you. Now more than ever, it is possible for patients to easily eliminate deep-set wrinkles, create balanced tone, and restore color. Additionally, skin rejuvenation helps stimulate the production of collagen and elastin fibers. Collagen is a protein in our body most responsible for providing structure and strength to our skin. Long-lasting results can be visible for up to 10 years or longer depending on one's lifestyle and consistency with skin maintenance.
What Are Your Concerns
With Skin Rejuvenation?
RECOVERY
Your face will appear red and irritated following your procedure. You will need to apply a healing ointment for 10 to 11 days following your treatment. Most patients are fully healed and ready to engage in their regular social activities after 2 weeks. Healing speeds are different for each patient; however, you should give yourself plenty of healing time (about 4 to 6 weeks) before an important event.
SCARS
One of the many benefits of Dr. O'Neil's skin rejuvenation system is that it is non-surgical. Where a facelift can leave extensive, visible scarring along the hairline, this skin rejuvenation system requires zero incisions, leaving a smooth, scar-free complexion.
PAIN
An intramuscular anesthetic with a sedative is used during Dr. O'Neil's skin rejuvenation treatment. This allows you to relax and sleep through the procedure for a painless treatment. Following the procedure, your skin might feel tight or irritated. Our topical healing ointment will help control any discomfort.
COST
The average cost of Dr. O'Neil's skin rejuvenation is $5000. This price includes the facial rejuvenation, skin peel, as well as operating and anesthesia fees.
Before & After
Gallery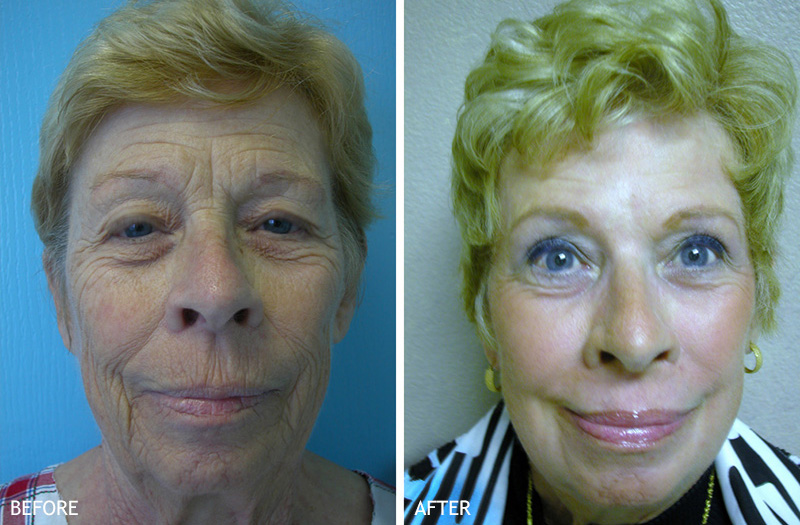 * Every case is different and results do vary. I will be able to address your individual case during your consultation.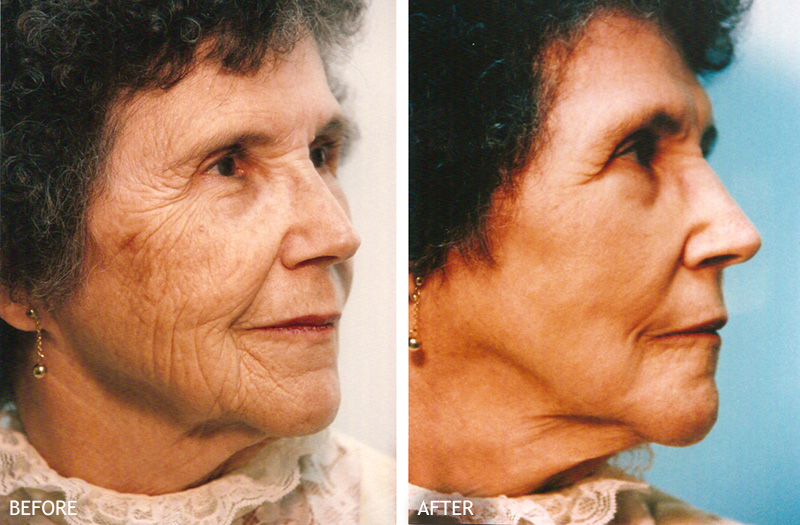 * Every case is different and results do vary. I will be able to address your individual case during your consultation.
Frequently Asked Questions
About Skin Rejuvenation
Who is a candidate for Dr. O'Neil's skin rejuvenation treatment?

Almost any patient with visible signs of aging can significantly benefit from Dr. O'Neil's skin rejuvenation. Some health problems may prevent you from qualifying for treatment, and certain patients may be better suited for a different procedure. During your consultation, Dr. O'Neil will recommend the best course of treatment to achieve your aesthetic goals.

How long does it take to perform a skin rejuvenation treatment?

Since there is an extensive preparation process, Dr. O'Neil will be working on your skin for 1 to 1 ½ hours. However, overall skin rejuvenation is a quick procedure in comparison to more invasive measures such as a surgical facelift or neck lift.

How much younger will I look following my skin rejuvenation treatment?

Individual results will vary depending on the extent of correction needed prior to treatment and your body's healing process. Most patients look 10 to 12 younger following their treatment.

How long will my results last?

Since Dr. O'Neil's skin rejuvenation treatment regenerates collagen production, most patients receive life-long results. You will look up to 10 years younger than your true age for the rest of your life, although it is impossible to slow down the process of aging entirely.

Is Dr. O'Neil's skin rejuvenation safe for all skin tones?

Darker skin is known to react differently than lighter skin tones to different skin therapies. Dr. O'Neil's skin rejuvenation treatment will be adjusted to a patient's needs to allow for safe and effective treatment of all skin tones.

How does Dr. O'Neil's skin rejuvenation compare to a laser peel treatment?

Dr. O'Neil's skin rejuvenation offers great skin tightening and improvement to signs of aging. It penetrates deeper than traditional CO₂lasers with less chance of causing damage to the skin. In addition to longer-lasting results, your treatment will also produce smooth skin that appears natural and ageless.

How does Dr. O'Neil's skin rejuvenation compare to a facelift?

While both treatments correct sagging skin and facial wrinkles, a facelift cannot correct the deep wrinkles that occur around the mouth and eyes. Dr. O'Neil's skin rejuvenation improves these hard-to-correct areas, such as crow's feet and nasolabial folds for visibly younger skin.
Schedule a
Consultation
If you would like to schedule a consultation or ask a question, please fill out the form below or call us at 951-296-1690.