Liquid Facelift
A young facial appearance is created by fullness and an attractive plumpness.
Getting older can mean losing volume throughout the face because collagen breaks down over time. As key facial areas begin to thin and collapse, facial bones become more prominent and your face can look wrinkled, hollowed, and more angular. Dr. O'Neil's specially formulated Liquid Facelift can erase years from your appearance by restoring attractive, youthful fullness, volume, and soft rounded facial contours.
What Does
a Liquid Facelift Treat?
✓ Wrinkles around the mouth and nose
✓ Volume loss in the cheeks
✓ Loss of definition along the jawlines
✓ Hollows and wrinkles at the temples
✓ Deep grooves along the eyelids
✓ Mouth commissure grooves
✓ Nasolabial grooves

Liquid Facelift
With Dr. O'Neil
Dr. O'Neil's Liquid Facelift is able to achieve dramatic results because it focuses on plumping and fleshing out the contours of your face. All Liquid Facelifts are performed with the patient under intramuscular anesthetic with a sedative. Dr. O'Neil restores volume to target areas using a special diluted hyaluronic acid. The solution is carefully injected into the both the surface and deep tissues with an injection cannula. Dr. O'Neil's technique allows him to carefully place each injection to tailor the procedure to your specific needs.
BENEFITS
The use of twilight sedation ensures a painless and comfortable procedure
Since a cannula is used to inject the solution, you won't develop scarring like with traditional facelift procedures
Hyaluronic acid is a natural body product, so no allergy testing is required
The special cannula helps minimize postoperative bruising
The injected solution is placed evenly throughout the face to avoid clumping
Concerns
Recovery
A Liquid Facelift doesn't require an extensive recovery period like many other facial procedures. You may experience some mild bruising, swelling, and redness immediately following your treatment, but these side effects should subside within a few days. Most patients can immediately resume their regular activities, but it is important to avoid exposure to direct sunlight during your healing process.
Scars
The non-sharp cannula results in no visible scarring and helps prevent excess bruising.
Pain
Twilight sedation allows for a completely painless procedure. Some patients may feel minor postoperative discomfort that can be controlled with pain medication.
Cost
The cost of the Liquid Facelift varies depending on the amount of filler material required. The average cost of Dr. O'Neil's Liquid Facelift is $4,500.
Before & After
Gallery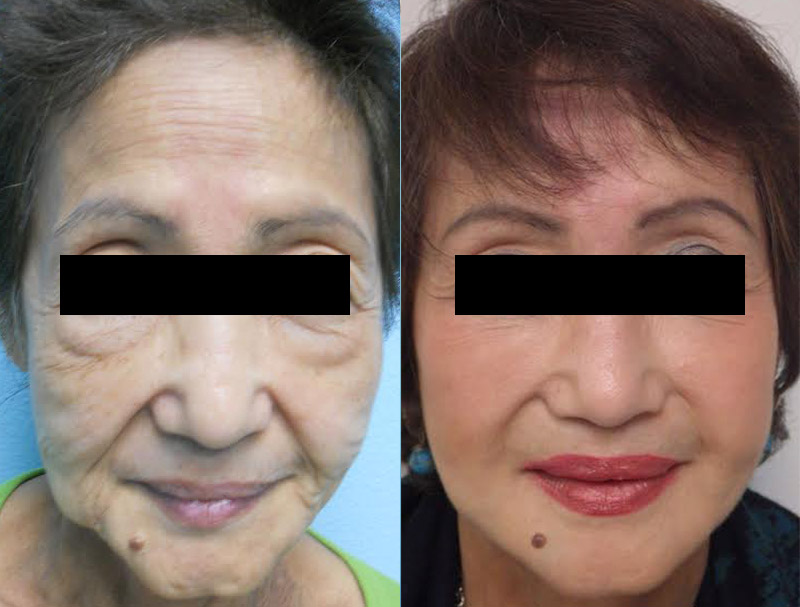 * Every case is different and results do vary. I will be able to address your individual case during your consultation.
Frequently Asked
Questions
Will a Liquid Facelift improve the texture of my skin?

While the Liquid Facelift can improve some minor wrinkles, its main goal is to treat volume loss. If you are looking to improve skin texture as well a reverse your loss of fullness, Dr. O'Neil recommends combining the Liquid Facelift with his unique skin rejuvenation procedure.

Who is a candidate for Dr. O'Neil's Liquid Facelift?

Almost any patient with volume loss can significantly benefit from Dr. O'Neil's Liquid Facelift. Some health problems may prevent you from qualifying for treatment. Certain patients may be better suited for a different procedure. Dr. O'Neil will recommend the best course of treatment during your consultation.

How much younger will I look following my Liquid Facelift procedure?

The extent of your result will vary. However, most patients are able to erase five to 10 years from their appearance.

How does a Liquid Facelift differ from traditional dermal fillers?

A Liquid Facelift is injected as even layers into the tissue, while fillers are injected as clumps that can lead to a lumpy appearance. A Liquid Facelift tends to provide patients with more natural-looking results and can achieve a fuller facial appearance.

How long will my result last?

The Liquid Facelift is designed to provide long-lasting results. Since the solution is biostimulatory, new collagen production is stimulated and tissue synthesis occurs for long-term correction.
Schedule a
Consultation
If you would like to schedule a consultation or ask a question, please fill out the form below or call us at 951-296-1690.