Natural Breast Enlargement in Temecula
Posted August 19, 2012 in Fat Transfer, Home, Natural Breast Augmentation
CAN I HAVE MY BREASTS ENLARGED WITH MY OWN FAT?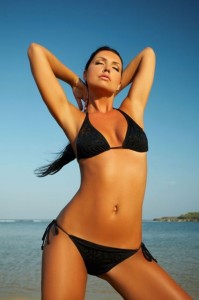 Breast augmentation with autologous (the patient's fat) fat transfer has been performed by cosmetic surgeons for many years.  It is just a matter of finding a surgeon with expertise and experience with this technique.
Most U.S. surgeons prefer saline or silicon gel implants for breast enlargement.  They are easier to use and require less work for the surgeon.  Fat transfer breast augmentations require knowledge and expertise in proper technique for removing the fat and for re-implantation.  In Taiwan, more than half of all breast augmentation procedures are done with fat transplantation but in the U.S. it is less than 5%.
The standard procedure  in fat transplantation breast enlargement surgeries is to remove a modest amount of fat with liposuction from another part of the body, (abdomen, hips, thighs, etc).  The fat is then separated from any fluid or blood, condensed with a centrifuge and reinjected into the breast.
It is relatively painless and can be performed with local and intravenous anesthesia.  Three or four surgical sessions are usually required.
For more information about natural breast augmentation, please visit our procedure page, "natural breast augmentation".
Dr O'Neil is a cosmetic surgeon in Temecula, California.  His practice specializes in liposculpture and fat transfer procedures, serving surrounding communities including Fallbrook, Murrieta, Wildomar, Lake Elsinore, Perris, Hemet, South Corona, Riverside, Corona, Menifee and Sun City.  Please contact our office with any questions or to schedule a complimentary consultation.