Minimally Invasive Neck Lift
Posted November 19, 2015 in Facial Fillers, Injectable Fillers, Liquid Facelift, Neck Lift, Skin Rejuvenation
Lacking definition between your neck and jaw may be causing your face to appear rounder than it is. Fatty tissue and sagging muscles that hang from your neck can cause you to appear heavier than you are. At O'Neil Skin & Lipo Medical Center, we perform minimally invasive neck lifts to safely and quickly create definition and restore a graceful appearance to the neck.
What Is a Minimally Invasive Neck Lift?
Dr. O'Neil makes a small incision underneath the chin. With liposuction or direct incision, he then removes excess fat from directly below the chin and along the neck. Dr. O'Neil makes two more discreet incisions behind each ear through which he tightens the platysma muscle and sutures them together to restore a tight, firm appearance.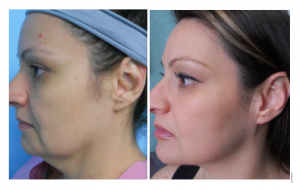 Benefits
Inconspicuous scarring
Correction of neck laxity
Shorter recovery time
Less postoperative discomfort
Lower risk of damaging facial nerves
Natural-looking results
Long-lasting results
Enhancing Your Results
While some patients may require correction of just the neck, many patients still have an aging facial appearance. These patients could benefit from Dr. O'Neil's signature skin rejuvenation procedure along with their neck lift. This non-surgical procedure corrects fine lines, wrinkles, scars, and age spots that may be affecting the quality of your skin's complexion. This system is gentler than most other skin peels on the market, and the results are longer lasting.
Patients can also quickly correct visible wrinkles and volume loss that leads to an aged appearance with injectable fillers. While routine treatments are needed to maintain results, many patients are satisfied with the smoother, more youthful appearance they provide.
If you desire a slimmer, more graceful neck, schedule your neck lift consultation with Dr. O'Neil today. Contact our office at 951-296-1690 or fill out our online contact form for additional information.