Cryolipolysis / Coolsculpting by Zeltiq in Temecula
Posted February 08, 2011 in Body Contouring, Fat Reduction, Home, Liposuction
Medical Treatment For Fat Removal, Temecula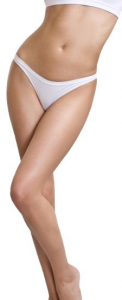 Cryolipolysis, also called coolsculpting by Zeltiq, is the latest medical treatment for removing unwanted fat.  Cryolipolysis utilizes a non-invasive cooling devise to break down subcutaneous fat cells.  The body gradually, over three to four months, breaks down the damaged fat cells and reabsorbs them.  The result is a reduction of inches in the treated area and improved body contouring.
It has been found that subcutaneous fat cells are more susceptible to the effects of cold than other surrounding tissues and that body fat may be reduced without damage to other tissues with this coolsculpting device.  Results of cryolipolysis have proven to be long lasting and no adverse effects to blood cholesterol have been noted.
A Coolsculpting session typically takes about 1 hour.  No anesthesia, needles or cuts are required.  It is considered an alternative to other body contouring techniques, such as tumescent liposculpture, liposuction or Smart Lipo (laser lipolysis).  There may be some redness or mild bruising in the treated area which usually resolves in a few days.  Cost is similar to other liposculpting procedures and usually runs around $3,000 per treated area!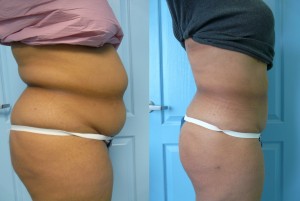 Cryolipolysis is primarily designed for patients who are only modestly overweight, as shown in the adjacent before and after photo.  If the fatty layer is too deep the coolsculpture device will not be able to cool the deeper layers and inadequate fat removal will occur. This will result in the need for repeat procedures.  Cryolipolysis is not designed to remove large volumes of fat.  Larger fat volumes or thicker fat layers will be better treated with modern body contouring procedures like Tumescent liposculpture or Smart lipo.
Cryolipolysis is designed to slenderize a body area that is modestly overweight.  If true body contouring is required, tumescent liposculpture or Smart lipo may be the best choice.  Also, if multiple body sites are required, Smart liposculpture may be more cost effective.  But if the offending fat is modest, and only one or two body areas are to be treated, Coolsculpting is a safe non-invasive technique for fat reduction.