Fractional Laser Treatments: A Happy Medium
Posted April 30, 2015 in BOTOX®, cosmetic surgery, Face lift, Facial Fillers, Fractional Laser, Skin Rejuvenation, Skin Treatments
Benefits of Laser Skin Rejuvenation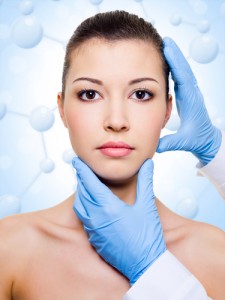 At O'Neil Skin & Lipo Medical Center, we understand that there are a LOT of options on the market to help you achieve a more youthful, beautiful complexion. It can be overwhelming at times when attempting to figure out which treatment is best for you. You may not be interested in the short-term results of injectables, but the idea of a surgical procedure can be extremely off-putting. So are you supposed to settle for short-lived solutions, or should you be forced to brave the knife for long-term results? Of course not! Fractional laser technology provides a happy medium between injectable treatment and surgical facelifts.
Fractional Laser vs. BOTOX®
BOTOX® Cosmetic is known as an injectable because its solution is injected under the surface of the skin to correct wrinkles and fine lines. Its ideal use is for the upper half of the face. It works by blocking the nerve signals to the facial muscles, which prevents them from contracting. If the muscles cannot contract, the wrinkles relax and soften. Many patients choose BOTOX® because of its quick and noninvasive nature. While the effects of BOTOX® are extraordinary, the treatment only provides results for up to six months. Having treatments two to three times a year to maintain results can rack up a hefty price tag over time.
Fractional lasers are noninvasive treatments for skin enhancement. Fractional lasers work by stimulating collagen production deep in the dermis, which smooths the skin and erases signs of aging. The benefit of fractional lasers over BOTOX® is that a single treatment can provide visible results for up to two years, and laser treatment can also be performed on all areas of the face. Fractional lasers treat more than just wrinkles; treatment can also correct sun damage, pigmentation problems, and acne scars.
However, the recovery time for fractional laser treatment is 7 to 10 days, while BOTOX® requires no downtime. Some patients also find the recovery period after laser treatment uncomfortable due to the flaking skin that is a result of the healing process.
Fractional Laser vs. Facelift
Facelifts surgically enhance the face to rejuvenate drooping, loose, and wrinkled skin. Through well-placed incisions around the face, excess tissue is removed. The remaining skin and muscles are adjusted and secured with sutures. What remains is a firm and smooth facial appearance. However, the invasiveness of facelift surgery deters many patients from seeking it. It can take over two weeks to recover from facelift surgery, and some scarring along the hairline may be noticeable but should fade over time.
Fractional lasers damage only selective parts of the dermis, which ultimately stimulates collagen production. During the healing process, patients are likely to experience flaking of the outer layer of their skin. However, there is no associated scarring with this procedure. There is also little, if any, post-treatment pain. Any discomfort experienced is due to slight skin tightening.
O'Neil Skin & Lipo Medical Center
At O'Neil Skin & Lipo Medical Center, our number-one goal is to offer treatments that satisfy all the needs of our patients. That's why we offer painless fractional laser treatments performed using a topical anesthetic and IV sedation. We believe that laser technology is becoming the leader in the skin enhancement market because of its ability to bridge the gap between injectables and surgical facelifts.
For patients who desire quick and easy injectable treatment, we gladly offer BOTOX®, Restylane®, Radiesse®, JUVÉDERM®, and VOLUMA®.
Schedule your skin enhancement consultation with O'Neil Skin & Lipo Medical Center today! Whatever treatment you desire, our friendly staff is available to answer any questions or concerns you may have. Don't wait to see how fractional laser technology can help you achieve beautiful, flawless skin. Contact our office today by calling 951-296-1690, or fill out our online contact form here for more information.