How Much Bigger Can I Make My Breasts With Fat Transfer
Posted February 06, 2019 in Natural Breast Augmentation
Many plastic surgery methods can enhance the size and shape of your breasts, and breast augmentation is the most popular and sought out choice. Although breast augmentation can provide women of all shapes and sizes with a beautiful bust using either saline or silicone implants, some patients may feel a bit skeptical placing foreign objects into their chest. Others may fear their implants will look fake, or they do not want to endure a long recovery period that follows after undergoing extensive surgery. Thankfully, Dr. O'Neil can provide his patients with a safe and effective alternative with natural breast augmentation.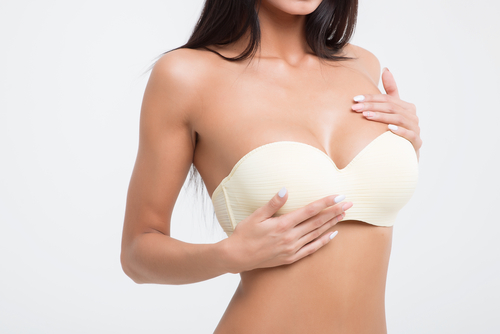 What Is Natural Breast Augmentation?
Natural breast augmentation is a surgical procedure that can improve your breasts using fat transfer. Stubborn fat depots will be harvested from the hips, thigh, or abdomen using liposuction. Once the fat is cleaned and purified, it will be injected into the breasts to help you achieve a natural and larger bust. This procedure will not only eliminate unwanted fat from your body in hard to reach areas, but it also comes with the bonus of contouring your body for a more slimming figure.
While natural breast augmentation can provide you with stunning results, knowing what factors can impact your final results are just as important. This includes your initial breast size and the amount of fat that will be harvested and preserved.
Breast Size
Breast augmentation using fat transfer can provide women with many benefits, including larger breast size, without the need for breast implants. Because this procedure uses your own fat, your breast will increase a half cup to a full cup size after just one session. However, the amount of fat that will be transferred to the breasts will be determined by your current breast size and shape, as well as the amount of excess fat on your body. Patients interested in undergoing natural breast augmentation must also have realistic expectations.
Fat Intake
The amount of fat that can be placed will depend on the acceptance of the treated area. For example, a woman who has youthful breasts may not benefit from fat grafting due to her breasts already being firm and tight. Women who have experienced childbirth or weight loss may find that their breasts are more accepting of the excess fat due to having more space to fill up the chest area.
While natural breast augmentation can give you a more natural and modest bust, some women may prefer even larger breasts after their treatment. Patients who would like to enhance their breasts further should consider traditional breast augmentation or additional procedures to provided them with their desired results.
For more information regarding natural breast augmentation and if this procedure will suit your aesthetic needs, schedule a consultation with Dr. O'Neil online or call our practice at (951) 296-1690.